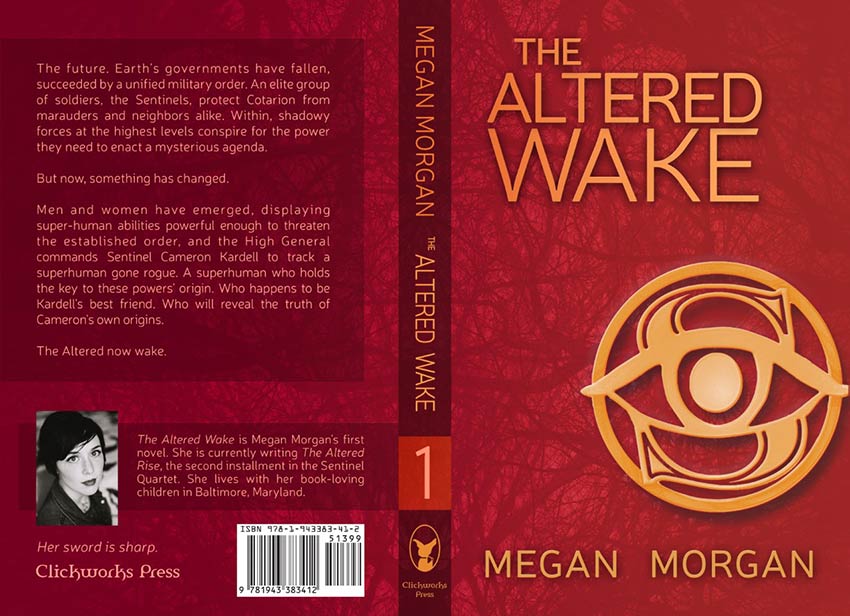 Megan Morgan's new book THE ALTERED WAKE is now available on Amazon.  It's also available on Barnes & Noble and a some other download platforms. Here's a link to the Clickworks page with all the buying options. https://clickworkspress.com/book/sentinel1/
The future. Earth's governments have fallen, succeeded by a unified military order. An elite group of soldiers, the Sentinels, protect Cotarion from marauders and neighbors alike. Within, shadowy forces at the highest levels conspire for the power they need to enact a mysterious agenda.
But now, something has changed.
Men and women have emerged, displaying superhuman abilities powerful enough to threaten the established order, and the High General commands Sentinel Cameron Kardell to track a superhuman gone rogue. A superhuman who holds the key to these powers' origin. Who happens to be Kardell's best friend. Who will reveal the truth of Cameron's own origins.
The Altered now wake.
The Altered Wake on Facebook
https://www.facebook.com/TheAlteredWake/
The Altered Wake on Amazon
https://www.amazon.com/Altered-Wake-Sentinel-Quartet-Book-ebook/dp/B07J9KNW2R
The Altered Wake on Clickworks Press
https://clickworkspress.com/book/sentinel1/
The Altered Wake on Barnes & Noble
https://www.barnesandnoble.com/w/the-altered-wake-megan-morgan/1129735896?ean=9781943383412
The post 'The Altered Wake' Now Available On Amazon appeared first on HorrorFix – Horror Movie News Reviews and More!.